Event: Wildlife Photography of the Year 2011
Location:

Oxford Science

(and other locations across the UK)




Every year, we go to the

Wildlife Photography of the Year

exhibition. I'm not sure how the tradition started. It must have been that we ac
cidentally stumbled upon it once at the

Natural History Museum

, and then ever since, we would
make an effort to catch it annually.

Interestingly, this show goes on tour after a few months, and we caught it in Bristol last year, and Oxford this year.

My friend already gave it a good review, but to add to that, it is absolutely fascinating how good photography can really make people interested in the most common of things.

I love the unique perspectives and close-ups: for example, this beautiful image of a

bee and flower

is simple yet stunning. This exhibition also makes a point to award y
oung photographers, good story-telling, and those who draw people's attention to endangered species and environmental disasters.

Undoubtedly, we purchase the

wildlife postcards

every year just because the photos are too beautiful to forget. This time, however, something funny happened - my friend started juggling some random balls in the gift shop, and when we were about to pay for the postcards, the cashier (manager?) gave him some real juggling balls to perform for a bit. Obligingly, my friend did a few tricks, and then the cashier let us have the postcards for free! Haha!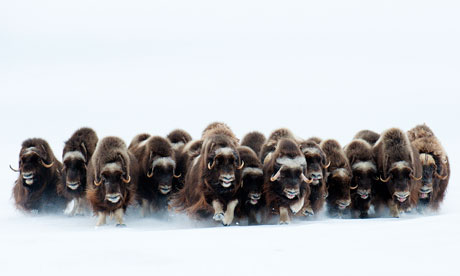 A herd of musk oxen in Victoria Island, Canada. Photograph: Eric Pierre

The tour is still going on now, you can catch it at various locations across the UK, including Yorkshire, Wales and Cumbria.