Where to get the best salad: Oxford's Cooking
Location:
Oxford, OX2 6HA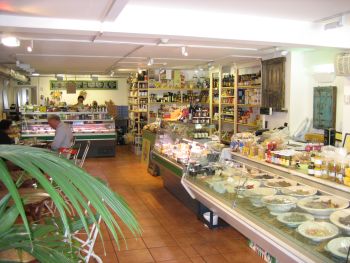 This place is absolutely delicious. The first time I went, a friend took me there for lunch, and back then it was called Woodstock Rd Deli. I was really impressed with the freshness of the food. The only thing that was disappointing was the price: you pay by weight, so if you ordered a particularly heavy salad, there goes your pocket money. So the second time I went, I picked the lightest of salads to beat the system.
Anyhow, since then, they have changed hands (I think), and renamed themselves as Oxford's Cooking. Still the same layout, a cozy little kitchen setting with lots of little treats and kitchen gifts you can buy, but also a long counter full of flavourful vegetarian salads. They also serve hot foods with meat and other options, but
so far, there has been no point trying those because their salads are stunning.
If I can make these types of salads at home, I'd definitely turn vegetarian! They now charge by the number of salad types you order, for example £3.50 for 3 types of salads in a takeaway box, so that's way more reasonable than in the past. It's a hefty little box: you get various salads to choose from. Lentils and broccoli to mozzarella balls (they're huge!) and roasted tomatoes, butternut squash crisps and many other fresh options, like couscous, quinoa, etc.
When you finish choosing, you are also given the option of some roasted sunflower seeds, which is free and makes a perfection addition to the little box of goodness.
It turns out they're the sister branch to Alpha Bar, which is located in the Oxford Covered Market. I'll have to try that place out, although it seems quite similar.
PS: According to another review, they are also very good with gluten-free or lactose-free choices.
PPS:
Since I wrote this up, I've heard they are renovating yet again. They're re-opening on 14 Sep. I'll have to check out their new look soon.